All about us at Purple Paddler

We are Sue and Mike. Mike started paddling in his early twenties and Sue in her teens. Since then we have never been out of boats for more than two or three weeks at a time.
We have been lucky enough to be members of a Worcester Canoe Club a busy thriving club with members of all ages and with interests in all sorts of paddling. Do not be fooled by the name "canoe" club. The club is full of kayaks with a few canoes thrown in for good measure!
We both started of with a keen interest in slalom and white water paddling. Mike was always good in the rough water and paddled some of the big rivers on the continent in Austria and Spain as well as reaching Div 1 in slalom. He also loved canoe surfing and was pretty good at standing his boat on end and had a shock proof roll.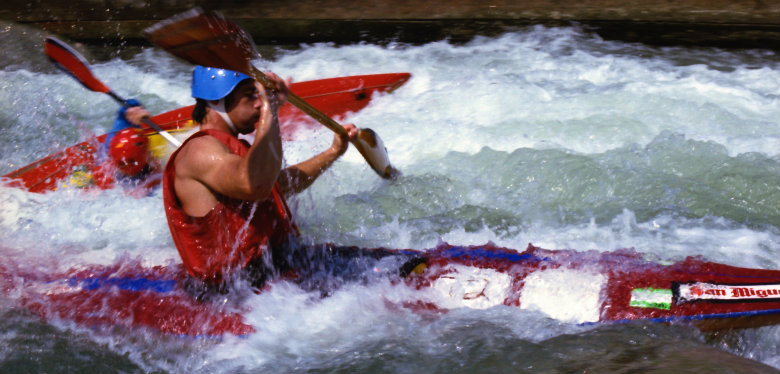 Sue learned how to save her boat from damage when she fell in pretty early on. This was a good thing as she spent a lot of time falling out of her boat. In fact Mike was heard to say that if his chances of making it down the river Tryweryn were the same as Sue's he wouldn't get in the boat! However, eventually she mastered rolling in an emergency and made it to Premier division slalom. She swam down a few rivers on the continent and unintentionally backlooped through the surf (something that put her off surfing for quite some time!). 
As all of this pre-dated plastic boats so Mike became pretty good at repairing boats as well as being part of a team of club members who made their own fibreglass boats from a communally purchased mould. 
We both got into white water racing whilst Sue was at University as the University club had some outstanding white water racing paddlers and continued this on and off for a few years.
On holidays in Pembrokeshire canoe surfing we also had the opportunity of a few sea kayaking trips around Ramsey Island communing with the seals and the atlantic ocean. We also got the chance to paddle the "Bitches" a massive and potentially treacherous white water playground created by the tides, channels and rocks around Ramsey Island.
As work and family responsibilities increased we turned more and more to flat water racing, marathon and sprint. Mike is and has been a very good sprinter in his age group in Vet racing and for a number of years stroked the Worcester Vet K4 to National Championship success with regularity. He also loves a good tactical marathon race and has had considerable success in this area. Sue is not so much of a sprinter although she can be heard shouting for her team with enthusiasm. Her real love is marathon racing and she has completed the Devises to Westminster 125 mile race and holds a number of vet lady marathon medals.
We both became Level 3 BCU competition coaches and over the past 10 years or so we have spent a good amount of time coaching and supporting the junior members of Worcester Canoe Club including our daughter Emma. She has had her own success and won National Championship medals whilst some of her friends have competed at European and World Championships. Emma always manages to look good in a boat and is coaching juniors herself now although her first love at the moment is windsurfing. Over this same period we have travelled to Norway, France, Czech Republic, Hungary, Italy, Spain and Portugal competing in masters marathon world cup races held in conjunction with the senior and junior world championships. We have seen the best in the world racing some superb races and enjoyed some excellent social life alongside these events. 
We have managed to enjoy the delights of Disney Land, Busch Gardens and the Keys in Florida whilst Emma has been growing up but have taken the opportunity to fit in paddling in the Everglades and a few Sea Kayaking trips off the Florida coast. Recently we've been adding to these Sea Kayaking trips with a couple of days paddling in Fuerteventura and some coastal paddling in Devon. 
We are still paddling and still adding to the paddling stories we have to tell and hope that sharing our knowledge of the sport gleaned over many years of involvement will be both useful and inspirational to you and your paddling.