There are seemingly endless ways to enjoy canoeing and kayaking. We start here with a general look at a variety of paddling options and alongside this summarise some of the types of canoeing and kayaking that are explored on other pages on the site with links to take you off to find your own paddling adventures.
Make sure you follow up with looking at how to choose the right equipment for your chosen activities and look at our advice on getting started, trips and tours , suitable clubs and ways to improve your skills.

What will you try?
Easy Flat Water Paddling

You really don't need to get beyond this section if you fancy quiet days, or even just a quiet hour or so, in your boat, with or without company, cruising with nature (or even along an urban waterway). Any type of canoe or kayak will do this job perfectly well and you don't need to be an amazing athlete to get out and enjoy yourself.
You might like to follow our advice on getting started and as we grow our site we should be able to offer you a range of suitable venues for a quiet day on the water or a fun filled day with the family.

Heading out to Sea

The thought of heading out to sea along a deserted coastline exploring coves and beaches inaccessible by land holds a lot of attractions.  This is certainly not the place to start as an inexperienced paddler without instruction and a guide but with the right skills and experience sea kayaking is a great area of the sport to aim for.
Of course the sea is also the place for finding surf and with a surf kayak many a happy hour can be whiled away searching for the prefect wave. At least as thrilling as rapids many of the same skills are employed on the surf as on the white water river.
Two growing sides to the sport are mainly based on the sea. Surf Ski racing is taking off in a big way where paddlers take long fast but moderately stable boats that can cut out through the surf, pick up a wave and race with the ocean swell then head back in through the surf again miles downwind. The other area of rapid growth is in the Stand Up Paddleboarding community or SUPing. Whilst SUPing is not confined to the sea it has developed from the surfboard into a bigger more stable board that is suited to standing on and being paddled with a long shafted blade from a standing position. SUPers seem to be pushing the boundaries of what can be done on a SUP all the time at the moment so watch out and maybe try out this style of paddling.

Sea Kayaking

 Quiet cruising, nature on your side or wind, waves and tidal races; which appeals?


Canoe Surfing

Jump in a small manoeuvrable boat and catch the waves. What could be more fun?

The Thrill of the Rapids

You can get yourself on the rapids in a variety of boats. Most people start in a fairly standard closed cockpit kayak or in an open canoe on rivers with just a bit of current and some fairly small rapids and or weir shoots. Another route onto the rapids for the first time is rafting. With an experienced helm you can get started in a raft as a member of a team on some quite exciting water and there are plenty of companies that run rafting as a commercial enterprise who are happy to scare you to whatever level you feel comfortable with! 
The challenge of developing your own personal whitewater canoeing and kayaking skills to handle increasingly challenging and exciting water appeals to many. Whether you fancy a couple of hours on your home rapids, a day trip down a well known river with a few exciting rapids or a tour of a raging river in a far off country there is a level of white water paddling suited to your level of courage waiting for you to try!
There are also options to get involved in competitive canoeing and kayaking on white water. In the Olympic discipline of slalom, poles are hung over rough water and both canoes and kayaks are challenged to follow a predetermined course without hitting the poles in the minimum possible time. In white water or down river racing paddlers head down river against the clock as fast as possible over shorter "sprint" courses or longer "classic" courses. Then there is freestyle where paddlers show of their ability to make their boats do tricks on rapids with judges determining the winner based on a scoring system.
Slalom

Finding the fastest route through a series of poles held over whitewater without touching them.


Rafting

Jump in a raft with a helm and paddle your way through big bouncy waves.

Exploration and the Wilderness

Canoeing and Kayaking lend themselves perfectly to getting away from it all exploring backwaters, lakes, rivers and canals. Pack your tent and maybe your fishing gear and off you go. Be it a day trip or an expedition of a week or more there are way more routes to be found than anyone could hope to paddle even in a lifetime of paddling.
If the call of the wild appeals to you then this is where you should set your sights with maybe some remote sea kayaking thrown in for good measure.

Competition from local race to Olympic Glory


We have already talked about slalom, downriver racing and freestyle under the "thrill of the rapids" section. The other Olympic discipline is canoeing and kayaking sprint competition. Here paddlers race over 200m, 500m and 1000m in singles, doubles and four man boats both paddled as canoes as well as kayaks. These are commonly known as K1,K2,K4, C1, C2 and C4. The Olympic distances and classes are quite limited but a whole range of classes are raced at World Championship competitions. Using very similar boats to the fast and furious sprinters the marathon paddler races over all sorts of distances from fun introductory races of 2 miles up to ultra distance races of in excess of 100 miles. On the sea you will find canoe surfers performing tricks to be scored for style and difficulty and surf skis being raced down wind with the waves over long distances.
Dragon boat racing and out-rigger racing are some of the options for competition if you like to be part of a larger team and SUP races in a variety of forms can now be found.

If you have a competitive mindset you are sure to find some challenges to suit you within the canoeing and kayaking world.

Paddling Disciplines

Recreational Paddling
A trip to the lake, a lazy float down a river, or a more energetic paddle.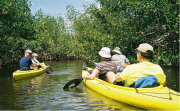 Ocean / Surf Ski Racing
Whether you are racing , training or just paddling surf skis for fun this is all about running in and out through surf and catching waves for long downwind stretches out at sea. Exhilarating and great for fitness.
Fishing
Pack your canoe or kayak and rods then head for the river, lake or sea.  

White Water Paddling
Start with some gentle rapids and who knows where you will end up.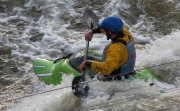 The competitive side to pure speed and distance paddling. Boats that glide effortlessly, regular training, fun races up to World Championship standard.

Down River / White Water Racing
Racing down rapids, blasting through waves, choosing the quickest line. 
Canoe Polo
All the usual tactics and skills of a ball game with the added excitement of being on (or in) the water.

SUP
Standing on an extra big surf board, cruise on the flat for a workout or catch the waves.

Dragon Boating
Crews of 12 to 16 paddlers working together in time with a drummer in colourful boats.