Choose the right Kayak Paddle for you

You can pay anything from $25 / £20 to $450 /£300 or more for a kayak paddle. Clearly the level of choice you will get and the amount of thought that you need to put in depends on how much you are going to pay and how much paddling you are going to do.
We will start by assuming you are buying towards the bottom end of the market and then develop into the more sophisticated choices for the regular and / or expert paddler.

Cheap Kayak Paddles

Some of the features of cheap kayak paddles that you can look for and will help you in your choice will be the offest of the two blades, whether they split into two halves, whether they have a plastic coating where you hands sit, how wide is the shaft, how long they are, how heavy they are and how strong the blades and shaft seem and do they have a drip stopper.

Blade offset or Feather

Regular and experienced kayak paddlers generally have paddles where the blades are fitted into the shaft at an offset angle, sometimes called "feather". Cheaper paddles may come
fixed with no offset
fixed with a roughly 90 degree offset that allows you to paddle either left or right handed
fixed with a roughly 90 degree offset that determines that you have to paddle either left or right handed or

may allow you to set them at different angles.
To paddle with an offset you hold the paddle firmly in your right hand (right handed paddlers) and allow the shaft to rotate through your left hand as you dip the paddle in the water. If this sounds tricky, don't worry it actually makes for a natural paddling stroke. If you plan on doing more than splashing around we would highly recommend paddles with an offset. Right or left handed really makes no difference.

Split Shaft

Quite a lot of the cheaper paddles come with shafts that split which will make them easier to store and put in your car. Check the joint though because they will be annoying to paddle with if the joint is wobbly or loose. The split shaft kayak paddles are the most likely to enable you to set different angles of offset. This is usually by a series of holes punhced in the one shaft through which a button pops to locate the two ends together. See what adjustments you can get. Top of the range paddles have excellent split shaft options that are highly recommended and widely used.

Hand Comfort

Many cheaper paddles use aluminium shafts. The diameter of the paddle shaft and the presence of some shrink wrap will determine how comfortable your hands are. If your hands sit straight on the aluminium they will get cold quickly unless it is hot and you may well get blisters. A bit of plastic shrink wrap reduces this a lot. Ultra lightweight narrow diameter aluminium may not be strong enough and may bend under use by adults whilst very heavy chunky shafts can be wearing on the wrists and hands especially for children.

Paddle Length

Paddle length is critical in more sophisticated paddles but at the cheaper end of the market you may not have much choice and you may also be sharing with the rest of the family. There is a general rule widely used that if you stand with your paddle upright next to you with one end on the floor you should be able to curl your fingers over the top of the blade with one arm outstretched. This is a very very great generalisation but will work fine for a cheap set. You might also like to know that for an adult female 190cm to 216cm is a typical range of lengths and for men 200cm to 222cm. The shorter paddles would be used on rough water and the longer paddles for cruising or distance paddling or sprinting in racing boats. However, if you are going to use your paddles with an inflatable kayak with high or wide sides you might want to go for a longer length than average as you have to reach further to get to the water than in many other kayaks.
If we had to chose one length for a range of paddlers in a range of boats we'd go for 210cm (6'10").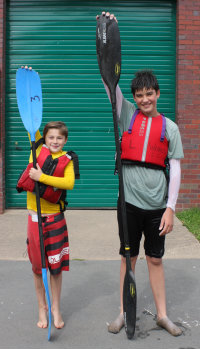 Choose the right paddle for you
Specialist Kayak Paddles

Specialist paddles with a different feel.

On our "To Do List"

White Water, Slalom, Freestyle etc. Kayak Paddles

Sea Kayaking & Touring Paddles

Canoe Paddles

On our "To DO" list watch this space

The main thing with the blades of cheaper paddles is how strong they are. They will almost certainely be plastic (although not so long ago they might have been plywood). See how much they flex and imagine the heaviest paddler who is going to use them leaning all their weight on one in the shallows. Will it bend, snap or survive? At this price point don't worry about their shape just whether they are strong enough.

Just one word....WHY?.....They don't stop the drips and if you are going paddling you will get wet. Thats all we have to say!