In January 2015 we did some sea kayaking in Fuerteventura taking advantage of some very cheap deals to catch a bit of sunshine and a break from the British winter. Before we left we booked a couple of days with Kayak Fuerteventura hoping to catch a few days windsurfing in between our days kayaking. Kayak Fuerteventura is run by Juan and George two experienced Sea Kayakers who personally run each trip. We took two trips one with each of them and they were both very helpful, friendly and knowledgeable.
What Experience do you Need?

Kayak Fuerteventura run trips all year round and cater for complete beginners through to experienced sea kayakers.  For complete beginners they run sessions along the coast using sit on top kayaks whilst the more experienced can take longer or more challenging routes and / or multi day trips. Rental is also available for those with appropriate experience along with drop off and pick up.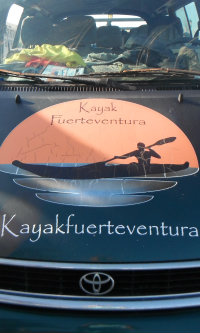 What we Did

We had a nice easy day with their Lobos Island Kayaking and Snorkelling trip and then a longer days paddling along remote cliffs and beaches. Travelling at this time of year we had the flexibility to book the two days and then agree on the actual days we would take the trips just before we left the UK with the benefit of looking at the weather forecast.  Presumably this must depend on how booked up they are but every effort was made to get us paddling in the best conditions possible and to suit our plans.
The Equipment
As paddlers used to our own carefully chosen kit we expect the equipment we get to use when renting to be a bit disappointing and not very flexible but we were very pleasantly surprised. We had a choice of sea kayaks from a range of makers including P&H, Valley and Perception with a few low volume boats in the mix.  The Celtic paddles we were using had carbon looms and blades, were light weight and adjustable to all angles, left, right, feather, length and they even had different blade sizes. The buoyancy aids were comfortable and in good condition and we were provided with a dry bag, snorkel and fins and a VERY thick wetsuit should we chose to use it for snorkelling. The kit for beginners was less sophisticated but very suitable to a beginners needs.
Winter Temperature Sea Kayaking in Fuerteventura
If you've been to the Canary Islands in the winter you will know that it's often breezy and can feel quite chilly, a lot like your average English summers day. With this in mind we were expecting to need to wear some combination of helly and cags and took neoprene shorts to paddle in. As it turned out again we were very pleasantly surprised. Unlike paddling along the UK coastline in the summer the water around Fuerteventura was a LOT warmer and as a result a short sleeved rash vest and buoyancy aid was all that was needed. An extra windproof layer was more comfortable when we stopped if the sun went in but all in all it was a very nice paddling temperature.
Our Routes

All in all if you want some winter (or summer) paddling somewhere warm we can recommend this outfit whatever your level. You need to be aware that if the wind is quite strong some of the routes will not be available due to the size of swell but lets face it if you want to go sea kayaking you have to be prepared to adjust your plans to suit the conditions and this was very much the case.
You can find a more detailed description of our Lobos Trip here and our 20km coastal paddle here. We've also put a selection of our photos on facebook.